By Kay Torres, Nutrition and Dietetic Graduate Student at Thomas Jefferson University
Throughout March, I had the pleasure and privilege of collaborating with RDN Libby Mills as we Celebrated a World of Flavors for National Nutrition Month. We worked on a range of initiatives during this time period, including cooking videos and podcasts that emphasized the importance of honoring other cultures. Our focus was on China, Vietnam, Puerto Rico, Jamaica, and the Middle East, and as a BONUS Brazil. 
Chinese Flower Mushrooms, Puerto Rican Serenade Salad (see the recipe below), Papaya Milkshake, Spiced Green Beans, and Roasted Almonds are just a few of our delicacies. Follow me @kay_rdninthemaking for recipes and great nutrition tips that can be utilized not just during NNM, but throughout the entire year. 
Additionally, you don't want to miss listening to Jamaica born Annalee Ashley and me talk about Island Life in the Caribbean in the Libby's Luncheonette podcasts.  Check out Anna's pages on Jamaican cooking and another for fruit cakes on Instagram.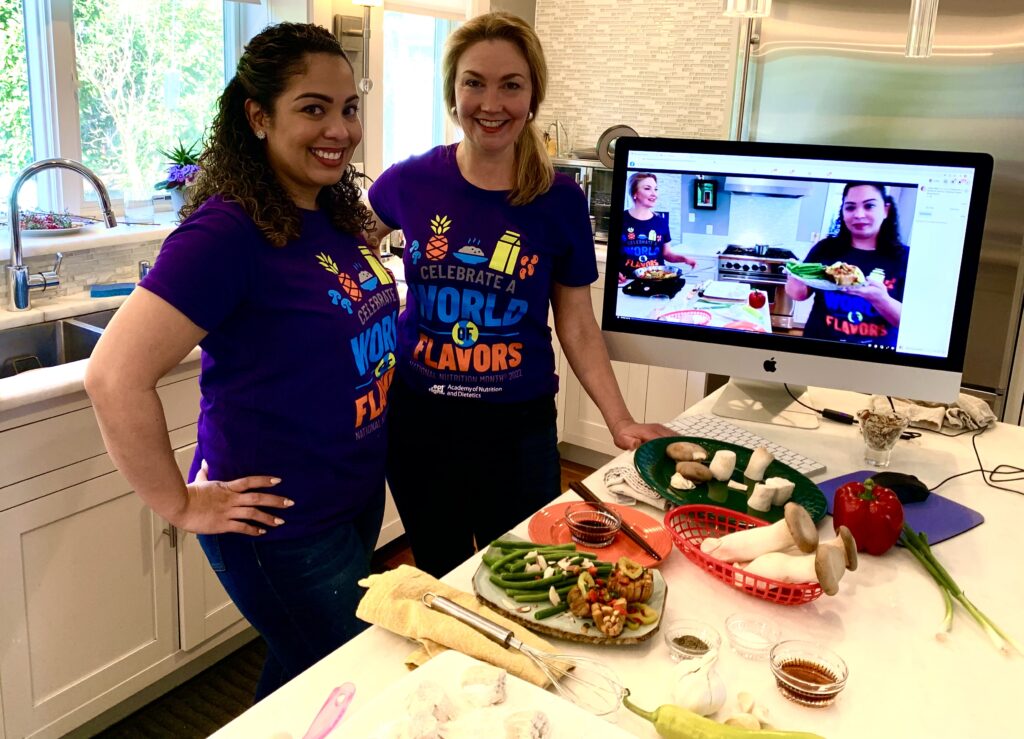 As we begin April, which also happens to be "National Preceptor Month," I'd want to convey my gratitude to Libby Mills for being an exceptional preceptor. Libby was patient, supportive, and inspiring, to name just a few of her many admirable qualities. This was a wonderful experience; it was enlightening, and so much fun!
Thank you, Libby!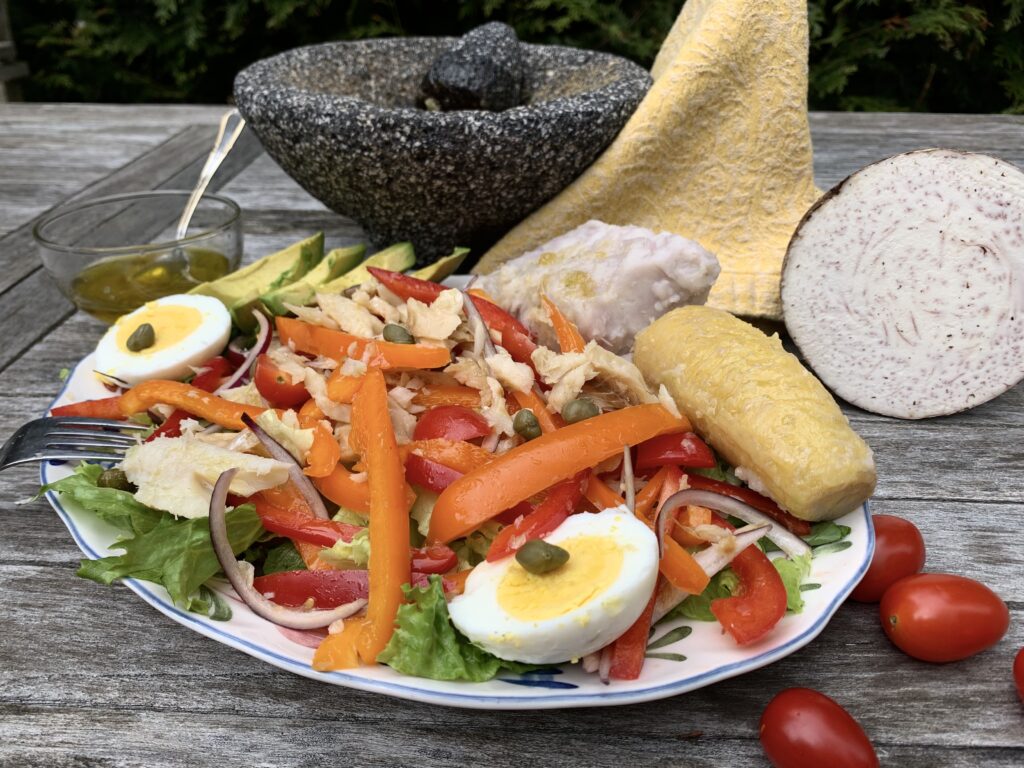 Puerto Rican Serenade [codfish] Salad
Yields 3-4 servings
Ingredients:
Root vegetables of choice (for this recipe I used one malanga and one sweet plantain)
1 bell pepper (can be any color)
½ onion (can be any type of onion for this recipe I used a sweet onion)
7-cherry tomatoes
1 avocado
2-3 eggs
1 container of Lettuce
1 small package of salted codfish (appx 12oz)
Olive oil
2-3 Garlic cloves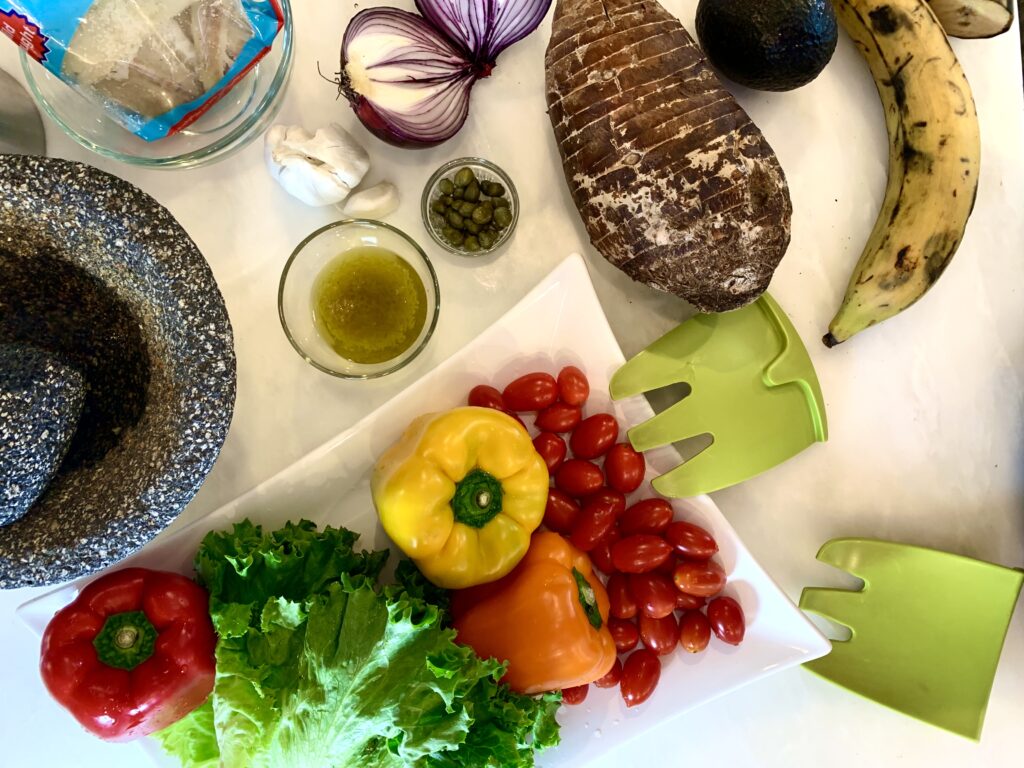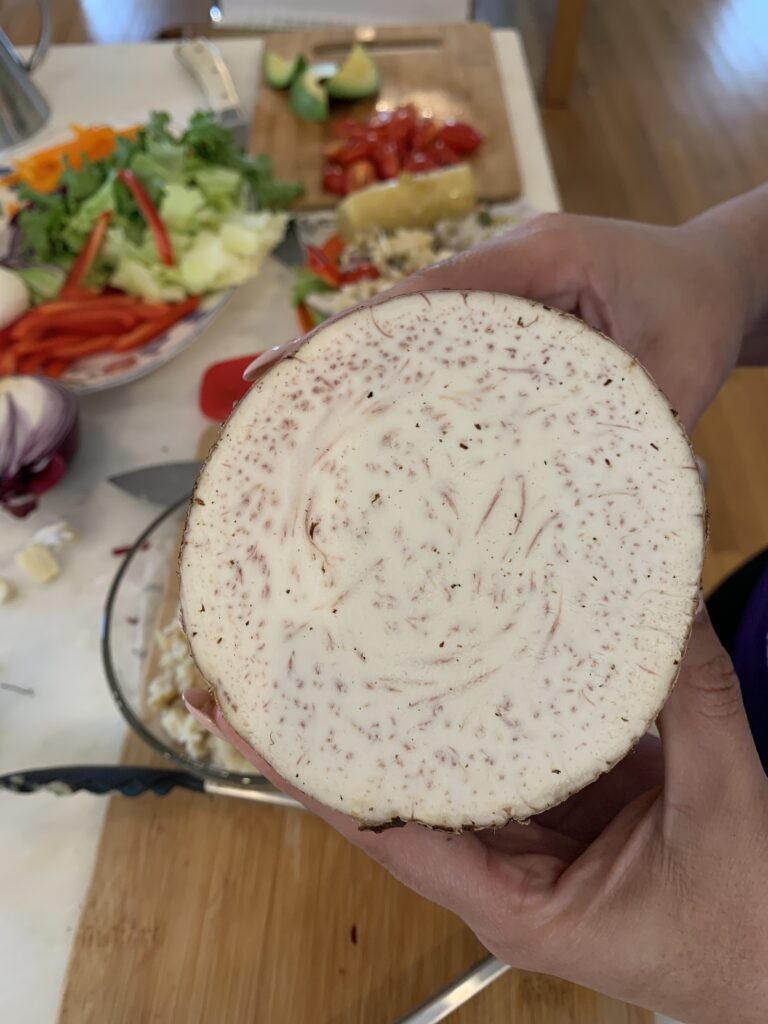 Salad Recipe:
Peel the malanga and cut into 3-4 large pieces, rinse and set aside.
Peel the plantain and cut it in half
Place malanga and plantain in a large pot of water, add salt to taste
Bring to a boil, then lower to med heat and cook for about 40 minutes or until tender.
Make 2-3 hardboiled eggs, rinse with cold water for 2-3 minutes (to avoid the black rim), then peel, cut in half and set aside.
Remove the codfish from the package and rinse with fresh water to take away excess salt
Place the fish in a pot of water (appx 3 quarts of water for 12oz of fish), and boil for 10 minutes.
Drain the fish and rinse with fresh water
Place fish in a bowl with lukewarm water and soak for 10 minutes
While the fish is soaking, begin to slice the onions, peppers, tomatoes, lettuce, and avocado, and set aside.
Drain the codfish and rinse again with fresh water
*Take a small piece of fish (from the thicker center area) and taste it. If it's too salty or if you need to minimize your sodium intake, then soak again with fresh/lukewarm water for another 10 minutes. Otherwise, skip this step and proceed to step 13.
Pat dry with a paper towel to remove excess water.
Using your hands or a fork pull apart the codfish into desired size chunks.
In a large bowl add tomatoes, onions, peppers, and codfish. Add ¼ cup of olive oil then gently mix and set aside
Place the desired amount of lettuce (about 2 handfuls) on a plate.
Add about 3-4oz of the codfish mixture over the lettuce, then top with eggs, and avocado. Garnish with capers or olives if desired and serve with root vegetables.
Can add olive oil dressing to root vegetables and salad if desired (recommended -see recipe below). Enjoy!
Olive oil dressing recipe:
Mash 2-3 cloves of garlic
Add 4-6 oz of olive
Add salt and pepper to taste.